Gift Aid is a simple way to increase the value of your donation, at no extra cost.
If you pay tax in the UK, Maimie Jane can reclaim the basic rate tax (25%) on your donation. For example if you donate £100, Maimie Jane can claim an extra £25.
In order for us to reclaim the tax you paid on your donations, you must have paid income or capital gains tax (in the UK) for each tax year (6th April to 5th April) at least equal to the tax that your supported charities will reclaim on your donations for that tax year.
All you have to do is make a Gift Aid declaration:
A Gift Aid declaration is a statement by an individual taxpayer that they want a charity to receive the tax paid on their donation.
If you are donating online, please tick the Gift Aid box on our donation page. Otherwise please contact us on 01246 299710 and we will send you a form through the post.
To claim Gift Aid on your fundraising, we must have the first name, last name, and home address (first line and postcode) of each individual sponsor. Please encourage them to tick the Gift Aid box on your sponsorship form when they sponsor you.
For more information please visit: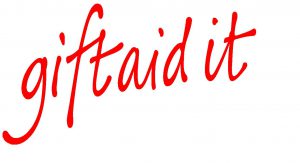 https://www.gov.uk/donating-to-charity/gift-aid